Here's a start to reviews of some of my recent purchases. I'll post another round later.
It's gray and rainy here today, so I bring you . . . GRAY reviews! Catalan Tee, Arched Pleat Pullover, Standby Ode Chemise and a boring OOTD.
I have a problem -- gray! Ack. I actually got ready yesterday and went to my Dad's house to watch The Closer. So, while I was up and about, I quickly snapped a few photos of some of my recent purchases and they are all GRAY, although various shades of gray, I might add. Ha, ha. I do have a lot of color in my closet, but I seem to be gravitating towards gray in my more recent purchases. All of the tops are an XS and fit true to size except for the dud -- Standby Ode Chemise -- which hung lifelessly on my little frame. Apparently, I would need an XXS petite in that one. My skinny black "jeans" are by Joe's Jeans. I love these. They aren't jean material and are so soft. They fit more like leggings. I got these on sale in 2009????
Catalan Tee
First up, the
Catalan Tee
. Get this one fast if you are interested. There was only one left in my store a month ago, and only XL shirts are available online. I got this with my birthday discount. (I told you I was going to end up wearing this Sweeping Pips necklace to death.)
I need to work on "draping" my hands more artlessly. :)
This is my husband's favorite shirt of the bunch. He usually makes comments like, "Oh, that's nice." (yawn) or, likens my shirts to something from Star Trek or the Renaissance, so when he gives an unsolicited thumbs up compliment on something, it is a keeper! Of course, I end up keeping the Princess Leia (
Swivel Revolutions Top
) and Renaissance Fair Tops (
FP Henley
) as well. :D
Arched Pleat Pullover:
The Arched Pleat Pullover is so soft and pretty. It is sold out online, but is probably hanging about the sales room waiting for you to purchase it at -- 50% off sale! I threw it on just to see what it would look like over the Catalan Tee. This is another one of my birthday presents from my dad that I am on the fence about. I kind of liked it over this tee even though it was a bit bunchy at the bottom. My husband's response -- "What is that?" I guess I need to try it on with more things, but I love the idea of it.
Edit: This is now my favorite sweater. I can't stop wearing it. It looks great over button downs, t-shirts, and dresses. Check here for a more detailed review and here for an outfit post.
This is my bemused look -- does this pullover look effortlessly cool or stupid over this bunchy top?
Standby Ode Chemise
I usually end up liking most everything I order online (fortunately/unfortunately), however, I've had a run of bad luck recently and have a pile of returns piling up. I usually don't share the duds, but I think this is helpful for others to see with similar body types, so, I'm going to try to do more of this. I have one dud to share in this round of reviews, but don't worry, there are plenty more to share if I ever get around to taking more photos. This was supposed to be one of my birthday presents from my dad purchased with a 25% off discount. I like it in theory but . . . Bleck! I wouldn't even wear this to sleep in. It is a shapeless potato sack on my boyish frame. I love the idea of this shirt/tunic/chemise, and it looked so lovely on the model in the product shot, but it is an utter fail on me. I think someone with a taller, more shapely figure could pull this off, but it is not for a stick frame.
Fantasy:
Here it is on the cute model. Perfect. I love longer tunic looks with leggings or skinny jeans. Drool. Can't wait to get it for my birthday. Yay!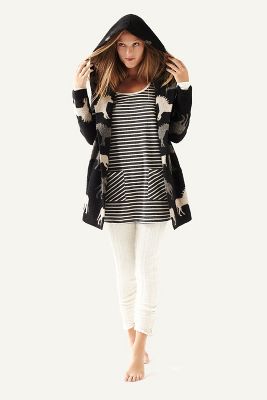 Reality:
Ugh, groan. Blech. Horrible on my 5'4 bosom-challenged frame. Couldn't wait to take it off. Is this another example of pinning in product photos? She's as skinny if not skinnier than me and it is much more fitted on her. Maybe this is due to where it falls on her hips due to her being taller than me???
ICK! Standby Ode Chemise, Anthropologie, HIDEOUS!




Here's an old outfit post from last week. I thought it was fitting to place it here with the gray reviews. I got this sweater at Target on clearance for less than $10 dollars with a birthday gift card last year -- read, free for me!
Pilcro cords, Target sweater, Anthro necklace
This is an Anthropologie necklace, but I don't know the name. It is almost identical to the Rings and Things necklace -- just longer. I've actually worn them together before. It's another one of my favorite necklaces, but is VERY delicate. I got it caught in my chair at work and it broke apart in two places. Here it is though, as good as new. :D
Okay, blah, blah. These posts are so time consuming. I don't see how you regular poster ladies do it and go to work. Blah, blah . . . until next time.
XOXO,
V.B.