I've got basically nothing in the way of reviews or new outfit photos but I did get my sale and 25% off discount items today and I love them all, so reviews will be upcoming, but probably not until the weekend because I reinjured my stupid foot. Yes, I REINJURED my already injured foot! UGH! My goal was to rest up over winter break and hopefully move from the air boot to something less awkward. I hope this is still possible!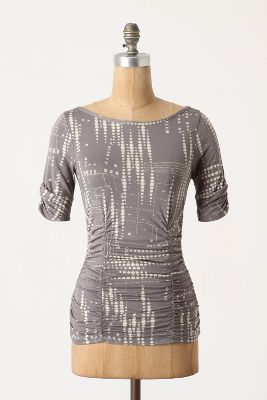 Made to Measure Tee
I do want to give a head's up quickie review of the Made to Measure Tee by Weston Wear. I tried it on today in my usual XS and it was WAAAAAY too tight in the stomach area. It fits well everywhere else, but the ruching in the stomach area is just too clingy and uncomfortable. I think I have only sized up to a small a total of two times in the 6 years I've shopped at Anthropologie, so I'd say this top runs small in the waistline. I'm going to exchange it for a small and hope for the best, because I really like the color, pattern and sleeves. I own a couple of Weston Wear dresses and they fit perfectly in XS, so I am surprised at the fit of this top. I'll post a photo of the small when I get it.
As for the foot, one of my students lunged into me without looking, stepped on my injured foot and caused me to slightly turn the foot as I struggled not to fall over. It is more swollen and painful than it was and is discolored again, so I'll need to rest up before doing another round of photos.
It's a good thing I have all these great outfit photos saved up to share, now isn't it? Ha, ha. Here's a couple of ways I've worn this wool skirt my mother gave me.
Curtain Call Top & Rings and Things Necklace


This is a great top. It looks very professional tucked into a skirt, but also doubles as a lovely asymmetrical tunic for a "going out" look with skinny jeans and heels. I got the Rings and Things necklace on sale last year for $10 on a "Why not? It's only $10 whim" and ended up wearing it to death last year. I wore it so much, I'm actually tired of it now. :)
Anselle Necklace
I love this outfit as it has a nice vintage feel to it. I only wish the photos could do it justice. Well, that's all for now. Time to prop the old throbbing foot up. Until next time . . . whining over and out. :D